113a-CODA Residency Worksheet will summarize procedure data entered to assist Training Programs in completing Questions 22-26 of CODA Residency Part II-Oral and Maxillofacial Surgery Curriculum Section. To respond to questions 27 and 28, use Report 111.
Do not submit this worksheet in this format. Report 113b must also be run to ensure accurate categorical totals. This report contains PHI and should be handled in accordance with HIPAA policies and procedures.
You may customize this report by:
Stage and Stage start date
Trainee
Date range
Role (Note: this filter will default to those contemplated by CODA Standards:Primary Surgeon, Primary Surgeon & Anesthesiologist, First Asst. to Attending OMS and First Asst. to Attending OMS & Anesthesiologist)
Site (Note: some programs may want to report on an affiliated site. This filter choice can be made manually)
View: 

Comprehensive: Reports comprehensively on procedures entered by trainees selected
Individual trainees selected only: Individual reports by resident for procedures entered
Combined: Combines both options. Individual trainee reports follow the comprehensive report.
The first page totals the 4 major oral and maxillofacial surgical categories. Subsequent pages provide a breakdown of those totals, by subcategory.
Totals contemplate the number of times a procedure code was uniquely recorded. Counts are NOT based on unique patient MRN. Per CODA Standards, bilateral procedures are counted as separate procedures. Refer to the "Procedure Specific Tutorial" on how to log bilateral procedures to ensure accurate totals.
Why do I need to run Report 113b? 
CODA categorizes some codes in multiple major and/or subcategories. These procedure codes are indicated by an * in Q23-26 and are NOT contemplated in category totals in Report 113a. Report 113b-CODA Category Exceptions worksheet must be run to manually review each procedure, select the appropriate category and update categorical totals appropriately. Report 113b only reports on residents who entered cases using procedure codes indicated by an * in Report 113a.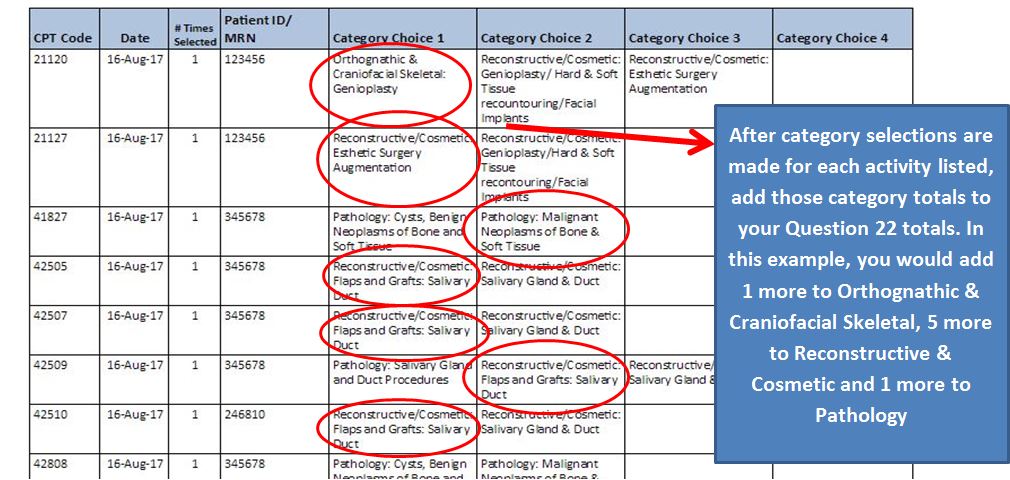 What is the "Codes not contemplated by CODA" Category Total?
There are codes included in the RSL that are not contemplated by the CODA Annual Survey. These procedures are totaled in the "Codes not contemplated by CODA" category for your information and reference only but do not impact totals in Questions 22 - 26.  Program Administrators can use "View Activities" to further research these procedures, if needed.