The RSL features pre-defined reports that allow Program Administrators to view their Program's case log in a more sophisticated format for specific purposes, i.e. the CODA Annual Survey
Reminder: If you wish to view case logs using different parameters than are available via Reports, use the View Activities feature.  For more information, read the Download Your Case Logs tutorial. 
Log in and choose Reports on the top bar Menu
Click View Report next to the Report to run the report.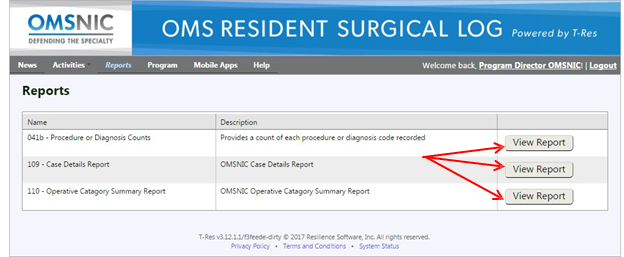 For detailed information on each report, view Report Overviews on the Help page.
Once you have made your selections from all drop down menus, click on View Report
The report will load below the drop down menu option
To download the Report, click on the blue disk which will now show at the bottom of the drop down menu box.
Clicking this file download function will give you two options: to download in PDF or Excel
Click on your choice and that download will show on the bottom of your screen.
Click on the PDF or Excel document at the bottom of your screen to open it. Once open, you can save this file to a folder on your computer.
To get back to the Main Menu of Reports on T-Res, click the Back to T-Res button at the top left corner of your screen.